Narrows Marina Bait & Tackle Store
Store is your one stop shop for everything you need to get out and enjoy the water quickly and safely.
Our selection includes but is not limited to:
Bait & Tackle
Live Herring (available spring summer and fall only)
Frozen Herring (available year round)
Live worms (Available spring, summer and fall only)
Tackle for salmon, lingcod and halibut. Corkies, yarn and bobbers for river fishing.
Cured sand shrimp, preserved squid, baby octopus and salmon eggs.
Crab bait and attractants
Crab and Shrimp pots
Fishing Rods and Reels
Nets
Downriggers
Lead Weights
Squid Jigs
Fuel

Convenient fuel stop that offers a fuel dock and land pump, open 7 days a week
87 Octane Ethanol-free marine grade gasoline
#2 dyed Diesel
Both contain ValvTect, a Premium Additive!

Tenants will receive a $.10 discount per gallon.

Convenience Store Goods

Beer, Wine and Tobacco
Cold beverages
Coffee and Cappuccino dispenser
Ice
Snacks, Sandwiches and Salads
Drug Store needs
Clothing and Souvenirs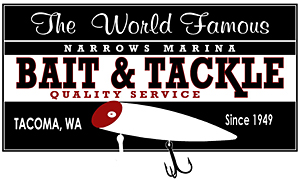 Marine Hardware

Boat Cleaning and Detailing products
Safety Equipment
Electrical
Fuel and Vent Supplies
Mooring lines and Supplies
Letter and Number Decals

We are an authorized vendor for Washington State Department of Fish and Wildlife Licenses. Come in to get your fishing and hunting licenses today!

Narrows Marina Bait and tackle participates in the Life Jacket Loaner program.

Links