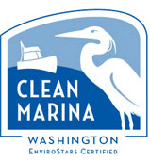 Family owned and operated, Narrows Marina has been serving boat enthusiasts in Pierce County and the South Sound area since 1949.

Located just south of the Narrows Bridge, Narrows Marina features covered and uncovered mooring slips, boathouse, a boat launch, ample parking and an ethanol free fuel dock. We provide a number of dry, secure units to store your boat, RV, or household items. We also offer open bay storage as well as heated and unheated winter storage for you boats.

Narrows Marina Bait and Tackle Store has everything you need for a day out on the water including, bait, tackle, snacks, beer and wine, cold beverages, ice and more. Visit our new neighbors Narrows Brewing Company or Boathouse19 Restaurant for a local, craft beer or a meal with a view!

By land or by sea, stop by Narrows Marina for all your boating and fishing needs!
Industry publication
Marina Dock Age
reviewed one thousand marinas across the country
and chose Narrows Marina as the winner on January 30, 2015.
Check out the article the Pierce County Business Examiner posted regarding the win
here
.
Narrows Marina Mission:
To be the best marina destination on the South Sound, where our customers can enjoy high quality products and services provided by friendly and knowledgeable staff, in a safe and secure environment.
Narrows Marina Values:
To exceed our customer's expectations.
To constantly strive to improve.
To be honest, ethical, firm, and fair.
To work as a team and support our players.
To improve the shoreline environment.
To give back to our community.


NARROWS MARINA PUBLIC BOAT RAMP CLOSED
Narrows Marina LLC has announced the closure of its public boat ramp facility at 9007 South 19th Street, Tacoma WA. Narrows intends to keep the boat ramp available for its staff, and tenants use by appointment only. A temporary barrier and signs have been erected to prevent the public from having vehicular access to the boat ramp. A permanent gate and signs will be installed in the following days.
According to Scott Wagner, co-owner of Narrows Marina LLC and manager of the marina property, "We are deeply saddened and regret the accidents and loss of life that have occurred on the boat ramp, but we have never felt that it was unsafe or presented an unreasonable hazard to the public. However, in light of recent events and out of an abundance of caution, we are closing the boat ramp to public access indefinitely."
Narrows Marina has been open to the public since 1949, and provides short and long term moorage, many dry storage options, a fuel dock with gas, diesel, and a sewage pump out, and a Bait & Tackle store. All of the remaining facilities at the marina will remain open.
We apologize for any inconvenience this may cause the thousands of people who have used the boat ramp each year. We invite them to contact our moorage office at (253) 564-3032 to discuss other moorage and storage options.